CERTIFICATES AND AWARDS
We are committed to ensuring that our packaging meets high quality standards, and therefore we work in accordance with the requirements of the ISO 9001 Quality Management System and the BRC Packaging Materials Standard intended for manufacturers of packaging for contact with food. Certification confirms that the company manufactures safe packaging as well as fulfils the strict hygiene and legal requirements.
ISO 9001:2015 CERTIFICATION
The standard was implemented in 2003. It is not a technical standard, but contains management system requirements. It is largely guided by the following demands:
focus on the customer and their needs,
leadership (setting policies and goals) and involving all staff,
process and system approach to management,
continuous improvement and reliance on facts,
mutually beneficial relationships with suppliers.
What does it offer the company?
improved competitiveness,
minimisation of manufacturing costs,
increased profitability,
improvement of governance,
better organisation of work,
harmonisation of documentation.
BRC IoP certificate for packaging manufacturers was implemented in September 2019. On 20-21 September 2021, an audit was carried out for compliance with the BRCGS Packaging Materials standard, ed. 6, where Yanko Sp. z o.o. was recommended for certification with an AA rating.
BRCGS CERTIFICATE – download 
BRC – international food safety standard. BRC is a set of recommendations and guidelines for companies operating in the food industry sector, especially hypermarkets (mainly British hypermarkets) and companies supplying their own brands ("private labels"). Obtaining BRC certification by a company for an entire brand of products or for a specific brand product is a guarantee that a given product has successfully passed specialised tests and inspections, is of high quality and is safe for consumers.
What does it offer the company?
guaranteed safety of the manufactured packaging,
compliance with all legal and hygiene requirements.
HACCP
HACCP – Hazard Analysis and Critical Control Point System. This is a system aimed at ensuring food health safety, which identifies, assesses and controls (manages) hazards relevant to food safety.
What does it offer the company?
guaranteed safety and a good quality product,
increased certainty and ensured, systematic repeatability of product quality, which is essential for consumer quality expectations.
Certificates and awards
Yanko Ltd. received recognition for the high quality of its products during many trade fairs and exhibitions. We take special pride in the Gold Medal of the International Poznań Fair we were awarded during the International Packaging Technology and Logistics Exhibition TAROPAK 2003 for film bags with the 'EURO' hanger.
Since 2003 Yanko Ltd. belongs to Gazele Biznesu (Eng: Gazelles of Business) – elite club of the most dynamically developing companies in Poland.
Additionally, Yanko Ltd. was awarded the certificate of being: 'Credible Company of the Podkarpackie Province' and 'Leader of the Podkarpackie Province' and also diamonds of Forbes Magazine in 2015 for companies in Podkarpackie Province with revenues from 5 to 50 million PLN.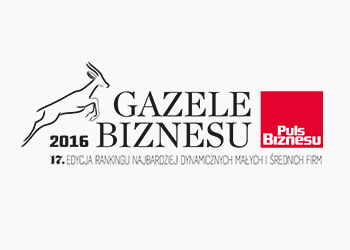 The company has been a member of business and industry associations for many years
Izby Przemysłowo-Handlowej w Rzeszowie
Podkarpackiego Klubu Biznesu
Zrzeszenia Polskich Fleksografów