Technology
Our company is a modern production plant that currently employs 130 employees and produces several dozen types of flexible packaging from foil and paper for food and industrial products, delivered to customers throughout Poland and in several European countries.
Modern machinery park, high qualifications of the crew and the ISO 9001: 2008 system implemented in 2003 and the HACCP system, as well as the best raw materials, guarantee the highest quality of our products. Employees' experience and comprehensive service (from graphic design to finished packaging) make Yanko Sp. z o.o. occupies a high position among packaging manufacturers in Poland and abroad.
km per day of printed film and paper for packaging
m2 of production and office space on which our plant is located
Over 25 years of experience in the production of foil and paper packaging
Every 10 foil bags on the Polish market come from our production plant
Over 130 experienced employees supervising the best quality of products
Printing
We have four flexographic machines, 6 and 8 colors, two of them enable activation film during printing and re-printing in insert technology (e.g. varnish application). Automatic unwinding and winding systems allow to change rolls during machine is running without loosing time for manually changing rolls. Short times of retooling the machine affect the efficiency increase at a lower cost and generate less quantities of production waste. We print on various substrates depending on customer requirements.
We can use solvent and water based inks. Basic print parameters:
print width up to 1000 mm
max. substrate transition 1050 mm
max. printing speed 400 m / min
range of reports 320 – 620 mm
BST Premius Digital print control system.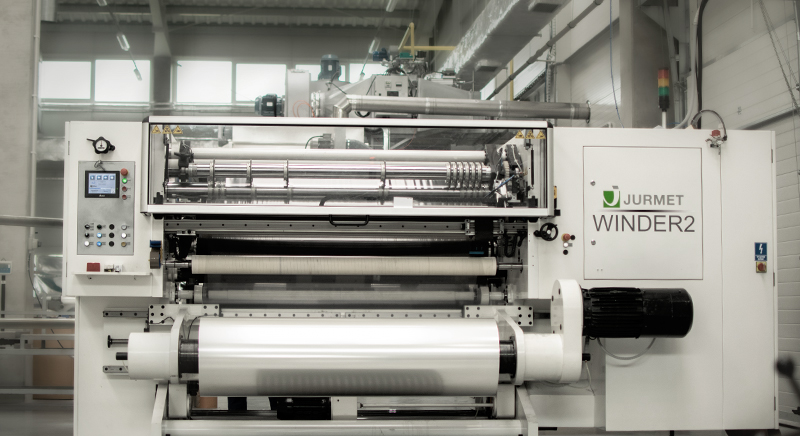 Cutting
Cutting processes are performed on two modern cutting machines, one of them has an integrated unwinder, an automatic knife positioning system which significantly shortens the preparation time, and guarantees high accuracy and precision of cutting foils and laminates.
Max. mechanical speed of 500m / min.
Cutting as part of production preparation up to a width of 1500 mm (12 – 150 mikronów).
Laminating
A modern, efficient lamination machine operating on the basis of solvent-free and solvent-based adhesives enables economical production of both small and large quantities of duplex and triplex laminates.
max. laminating width 1300 mm.
Welding
Our machinery park enables the production of various types of bags made of foils and laminates: DOYPACK, FLOW-PACK, vacuum bags, bags for automatic packaging, with a "EURO" hanger, flat and folded bags.
Depending on the type:
width: 30 – 600 mm
length: 60 – 600 mm
Quality control
The quality control laboratory ensures constant monitoring of the production process. It is equipped with the most modern control and measurement equipment for testing, enabling to obtain reliable and accurate results. These devices are:
ZWICK strength machine
welding machine
thermal chamber
analytical balance
thickness gauge
activation testers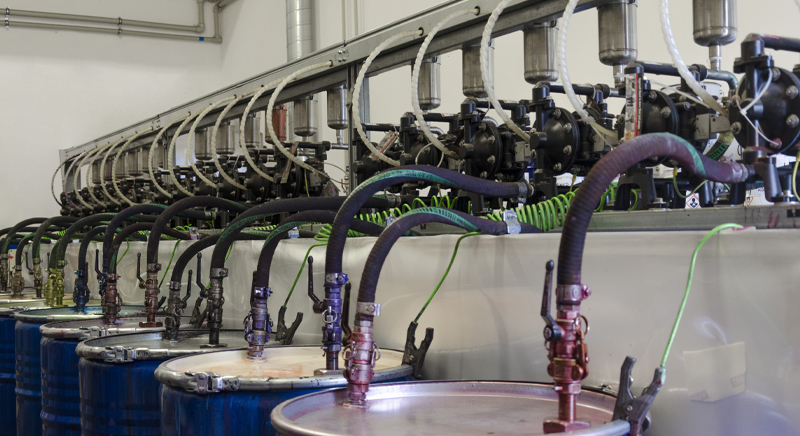 Inks mixer
The Yanko company has a ink mixing plant, thanks to equipment such as spectrophotometers, a formulation program, a program for electronic pattern recording and an experienced staff we have a very good color repeatability. We are ready in a very short time to prepare the right color of ink, according to the customer's expectations.
Warehouse
The Yanko company has a modern high bay warehouse with around 500 pallet places. The warehouse is divided into four main zones:
storage zone for finished products
storage area for raw materials for production
the zone for receiving and issuing raw materials / finished products
picking zone
To optimize the process of collecting goods from the warehouse, to execute orders faster and to reduce costs related to warehouse management, in 2019 we implemented a modern WMS system. It supports internal logistics management and ensures constant control over the flow of goods in the warehouse.